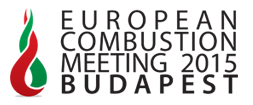 The Hungarian Section of the Combustion Institute under the auspices of the Federation of the European Sections of the Combustion Institute invites you to participate the 7th European Combustion Meeting (ECM 2015), which will be held in Budapest, Hungary, from 30th March to 2nd April, 2015.
The conference will be organized in Hotel Hilton, which is located in the Castle District of Budapest. Apart from the Roman ruins (the remnants of Roman city Aquincum), the Castle District is the most historic part of Budapest, and also one of the best known touristic areas in Hungary. Budapest is the cultural and economic capital of Hungary, with several large universities and research institutes.
The European Combustion Meetings cover all aspects of combustion science and technology, including fundamental physical and chemical aspects of traditional and novel fuel sources, modelling, reaction kinetics, industrial systems, gas turbine and engine systems, fires, combustion diagnostics, laminar and turbulent flames, burner systems, environmental impact and their mitigation, oxyfuel combustion, boilers and fluidised bed combustors, etc.
HMCS Lab participates in ECM2015 with four posters:
"An experimental and detailed chemical kinetic investigation of the addition of C2 oxygenated species in rich ethylene premixed flames"
Z. Malliotakis*, N. Leplat, G. Vourliotakis, Ch. Keramiotis, G. Skevis, M.A. Founti, J. Vandooren
"A parametric investigation of HCCI operating conditions on engine performance characteristics using detailed kinetic simulations"
G. Vourliotakis*, Ch. Keramiotis, Z. Malliotakis, A.Hatziapostolou and M.A. Founti
"An Experimental and Numerical Investigation of Externally Venting Flames Developing in an Under-ventilated Fire Compartment-Façade Configuration"
E.K. Asimakopoulou, D.I. Kolaitis and M.A. Founti
"Experimental and numerical investigation of a novel non-catalytic reformer for methane partial oxidation"
S. Benekos*, A. Loukou, I. Frenzel, G. Skevis, M. Founti, D.Trimis