Energy Efficient Coil Coating Process
Start: 01.10.2017 – Duration: 48months
H2020-SPIRE-2017

The project ECCO proposes a novel solution for the curing oven operation, which can not only drastically increase the compactness and energetic efficiency of the system, but leads to an increased production flexibility due to a fuel-flexible, modular and potentially energetically self-sustainable process, which can even provide an energy surplus to be used in other parts of the coil coating process or nearby facilities. Additionally, it offers the potential for solvent recovery and reuse.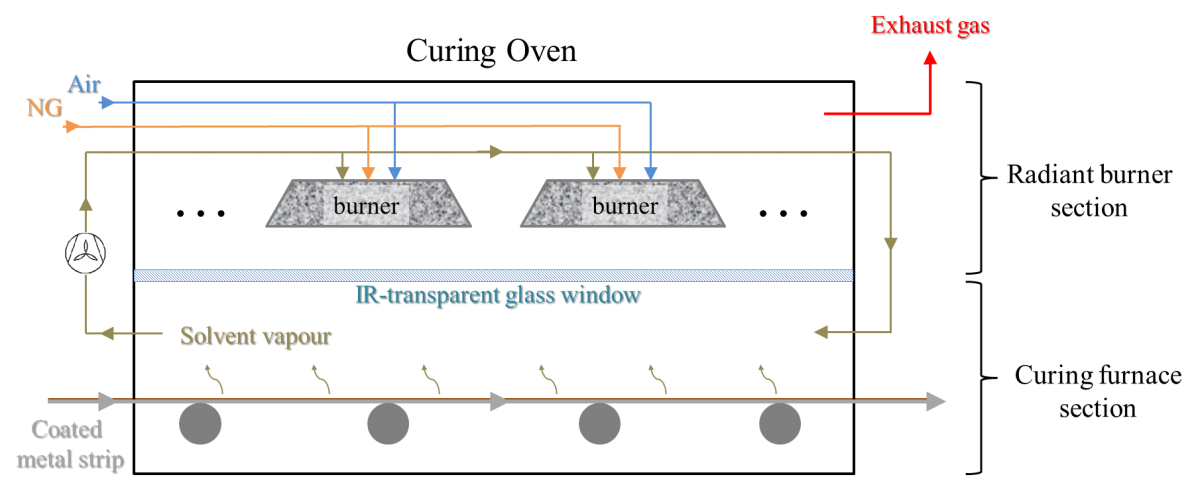 The main idea is to heat the metal strip by IR-radiation and operate the curing oven well above the Upper Explosive Limit (UEL), thus, performing the drying and curing process in an atmosphere mainly consisting of the solvent vapours, which are recirculated in order to provide also a minor supporting convective flux within the oven. The heat source for the drying/curing process is high intensity IR-radiation provided by IR radiant burners. As a result heat fluxes to the coated metal strip are increased compared to conventional convective ovens and the necessary curing temperatures at the surface of the strip can be reached more than 4.5 times faster resulting to correspondingly reduced oven sizes (linear dependency concerning the length) and/or increased line speeds.
Overall objectives are:
To reduce (improve) the size/production-capacity ratio of the curing oven section of coil coating facilities by 70% down to 30% of nowadays solutions
To reduce the fossil fuel related energy consumption of curing ovens by 40% in comparison to the most advanced existing technologies and by significantly over 50% in comparison to typical new installations, resulting to the same reductions of energy related CO2 emissions
To reduce the investment costs of curing oven installations by at least 40%
To reduce the operating costs of curing oven installations by at least 40%
To successfully demonstrate the proposed technology at TRL6
To develop clear business cases for the industrial deployment of the proposed technology