Plug-and-use renovation with adaptable lightweight systems
Start: October 01, 2020 – Duration: 48months
H2020

The NZEB (Near Zero Energy Building) concept requires a high level of energy efficiency, in combination with on-site renewable energy use/production. NZEB, can be leveraged further by prefabrication of building renovation components which enables improved quality control and shorter renovation times, since it reduces the duration of production and installation phases. Aligning prefabrication to Building Information Modelling (BIM) further facilitates coordination of manufacturing and preassembly (off-site and on-site) and improves engineering and construction management, bringing substantial benefits (time, cost, and quality) to the project owners.
PLURAL proposes an integrated "Plug-and-play" solution meeting the above challenges, that takes into account User needs, which is hence named "Plug-and-Use" – PnU – kits. Key to achieving these goals is to understand how to select and integrate various renewable energy technologies from the many available, incorporate them in prefabricated façade components and optimise their performance for different building types, climates and socio-economic conditions. Also, how to best manufacture them minimising energy use and material waste. All the above in the context of BIM (Building information modelling) process.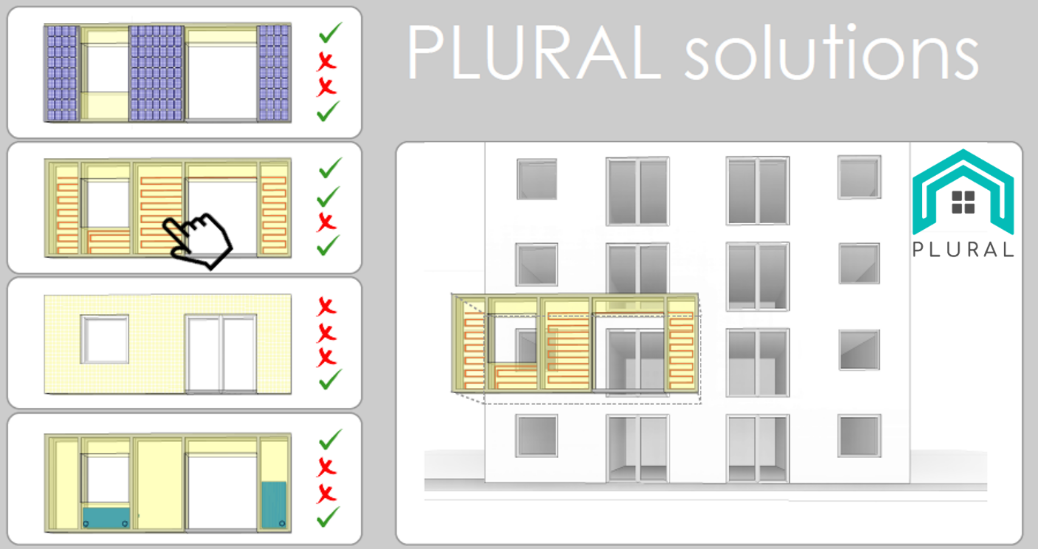 More information can be found here
PLURAL Website
KOM Press Release
This project has received funding from the European Union's Horizon 2020 research and innovation programme under Grant Agreement No. 958218.